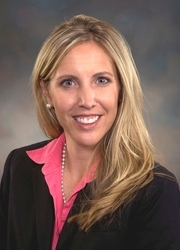 Lori Armstrong Browning was raised in Scottsbluff, Nebraska. She graduated from the University of Nebraska-Lincoln in 2000 with a Bachelor of Science in Human Resources and Family Science. Lori received her J.D. in 2005 from California Western School of Law, located in San Diego, California. Lori was admitted to practice law in California in state and federal courts in 2005. Lori practiced in the area of family law in San Diego from 2005 – 2012. While practicing in San Diego, Lori was actively involved in the San Diego County Bar Association. She sat as the Family Law Co-Chair for the years of 2011 – 2012. Lori was admitted to practice law in the State of Nebraska in 2012.
Lori's practice areas include Family Law, School Law, Workers Compensation and General Litigation.
Lori enjoys spending time with friends and family. Lori also enjoys a number of outdoor activities including running, hiking and golf. Lori serves on the board of Directors for the Friends of the Midwest Theater.