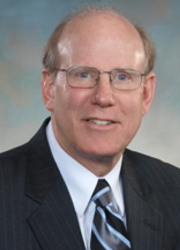 Mr. Sorensen has expertise in multiple areas of the law, including general civil litigation, business and entity law, contracts, real estate, estate planning and probate, workers' compensation, and construction law. His clientele is equally diverse, and includes banks, insurance companies, public power districts, irrigation districts, school districts, and construction and manufacturing companies, as well as individuals and families, small groups and associations.
Mr. Sorensen is a lifelong resident of the Panhandle of Nebraska. He was raised in Scottsbluff, and graduated from Scottsbluff High School. He received his undergraduate degree from the University of Nebraska, Lincoln, and his Juris Doctorate from the University of Nebraska College of Law. He was admitted to the practice of law in state and federal courts in 1973. He is member of the Nebraska State Bar Association and the Scottsbluff County Bar Association. He served as president of the latter association in 1990 and 1991.
Mr. Sorensen recognizes the importance of community and civic involvement, and he is active in many organizations that serve the communities in which he lives and works. He is a member of the Scottsbluff/Gering, Nebraska Rotary Club, serving as president in 2005-2006, Panhandle Community Services Foundation, serving as chairperson in 2004-2006, Scottsbluff County CASA, an organization whose purpose is to advocate for abused and neglected children in court proceedings. He has served on the board of directors of the Panhandle Humane Society, the West Nebraska Arts Center, and was a member of the Mitchell, Nebraska School Board for many years, serving as president for five years.
Mr. Sorensen is married and has three grown children. He has diverse interests outside his professional career, including building, cabinet and furniture making, motorcycling, golf, gardening and home improvement, music, and literature, all when time permits. He will serve as a dedicated and committed advocate and legal professional, eager to utilize the full range of his considerable experience to help his clients with their legal needs.